Introductory Kvetch
---
Above – Amelia runs into the garden maze at the Governor's Palace in Williamsburg
Kvetch – Yiddish for a constant complainer, or a nagging complaint
I really have no reason to complain, but I wanted a Yiddish word relevant to blogging, and I remembered Esther Kustanowitz's very interesting blog, My Urban Kvetch. We're moving to the opposite of "urban," but we're still Jews, so…
Introductions are in order!
My name is Brian. By day I'm a daring programmer of business software, by night, I'm an author. I'm also a part time soldier, having enlisted over two decades ago as a United States army paratrooper, now serving in the Pennsylvania Army National Guard until I transfer to the Maine National Guard. I have three years overseas service. I've jumped out of planes, helicopters, and a hot air balloon. As I type this blog, I'm the National Director of Jewish Outreach for the Libertarian Johnson / Weld 2016 Presidential campaign, though I've been a registered Democrat all my voting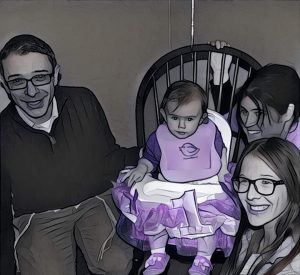 life. I'm a two-time candidate for the Pennsylvania State House. I play guitar, violin, and piano, and I love the outdoors. I've been a Jewish lay leader with a military and prison program for the last 10 years. I'm vice-commander of my Jewish War Veterans post. I even have an MBA. I've lived in Kentucky, Alaska, California, New York, Texas, and Pennsylvania. We're adding Maine to the end of the list, as in, nothing is coming after.
I believe in being a Doer of Things that are of Significance, that align with my (sometimes failed) attempts to be a Torah observant, shomer mitzvot Jew.
My wife is Leah. We've been married for 10 years. We met at synagogue, of all places, in my hometown of Lancaster, Pennsylvania. She's a special needs and emotional support teacher by vocation. We're in part moving to Maine so she can become the Director of Childhood Education at Bangor's Conservative synagogue. She's developed excellent religious school curriculum. She has luxurious curly hair, and I love her.
My oldest child is Ava, 14, who lives in Florida with her mother. She's an insanely talented artist. I don't see her much, but I try to stay in touch.
My middle child, Amelia, who will soon be 12, is amazing. She, too, is an insanely talented artist. She's a skilled ballerina. She also has a generous spirit and a profound sense of duty as a Girl Scout. She plays clarinet, but she never practices. She's "off the charts" gifted. We're also watching her for Marfan Syndrome.
My youngest child is Inez, or as we call her, Nezzie. She's a little over a year and a half old. She's energetic, talkative, busy, daring, and she inherited the luxurious curls of her mother and I.
I'd be remiss if I didn't mention our Great Dane, Herschel. He's a bit long in the tooth, but he's moving with us to Maine, and given his size, he's the third largest member of our family.